We use cookies for a variety of purposes, such as website functionality and helping target our marketing activities. Some cookies are essential, others help us improve your experience by providing insights into how the site is used. For more information, please visit our Cookie Notice.
What items do I need to carry in my truck?
As standard, DAF trucks are equipped with several systems and parts that make driving safer. We also recommend that you carry certain items in your truck at all times. Check here to see if you have all of these safety-related items.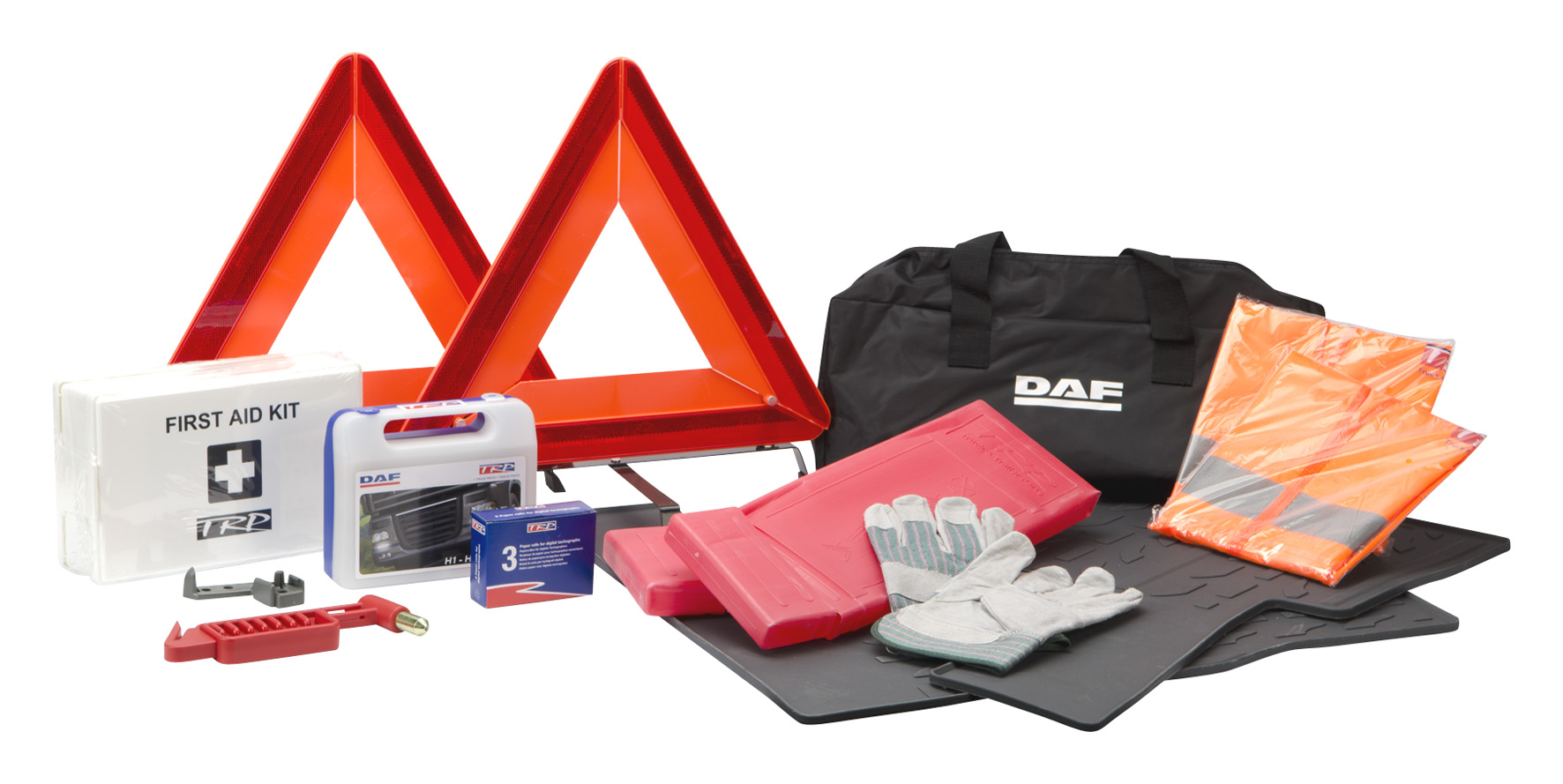 First-aid kit
A first-aid kit contains all the essential items for providing first aid. If a driver suffers an unexpected injury, they have everything they require to treat and dress their wounds. It is important to replace materials immediately after using them to avoid a situation where items are missing when needed. Certain countries stipulate that a first-aid kit must be carried in all trucks.
Fire extinguisher
Carrying a fire extinguisher in your truck is mandatory in certain countries. Ensure it is always properly secured; it should be within reach for the driver but also easily accessible to rescuers so that it can be used with maximum effectiveness in an emergency. It is also important to inspect the fire extinguisher annually.
Warning triangle and marker
Most countries stipulate that a warning triangle must be carried in all vehicles. It is also wise for drivers to carry other markers and reflective clothing as well, to ensure they can always be seen properly if they need to leave their vehicle due to a breakdown.
Other safety items in a truck
If the truck is being driven in extraordinary conditions, or if the destination is a working area, there are plenty of other safety-related items that can make a driver's life easier and safer. These include hearing protection, safety glasses, safety shoes, workplace clothing and gloves. If you are looking for this kind of safety equipment, take a look at your TRP catalogue.
Find your nearest DAF Dealer