DAF respects your privacy. We use cookies for a variety of purposes, such as website functionality, improving your experience of our website, building integration with social media and helping target marketing activities within and beyond our website. By continuing your visit on our website, you are consenting to our use of cookies. However, if you want to customize your cookie preferences, click on 'Change settings' below. You can withdraw your consent at any time. For more information, please visit our Cookie Notice.
The DAF truck cabin: then and now
The automotive sector in which we operate never stands still. We are constantly working on innovations in the fields of sustainability, safety and efficiency. For decades now we have been focused on developing the very best cabin we can. Find out how the DAF cabin has evolved over the years.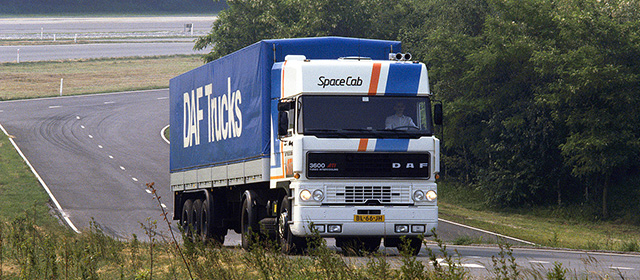 The origins of the DAF cabin
Production began in 1966, when DAF opened its first cabin factory. Three years later, we introduced the tilting cabin. This technology, brand new at the time, is still used today.
Focus on driver comfort
The Space Cab, introduced in 1985, was a ground-breaking development. The DAF cabin was already particularly popular with truck drivers by that point, and in 1987 we introduced a new flagship model: the 95 series. The truck came as standard with the Space Cab, which had become highly desirable. One year later, the DAF 95 was named "Truck of the Year 1988". In 1994, we went a step further when the Super Space Cab was born, creating an excellent foundation for the cabin as we know it today.
Stricter requirements, better trucks
In the years that followed, we worked continuously to perfect the finer details. The cabin has become ever more sustainable, safe, quiet, comfortable and visually appealing, and there are now a thousand and one ways to customise the cabin to your requirements. Trucks have become steadily more technology-focused and modern thanks to the introduction of new technologies. In days gone by, technicians worked purely on the hardware, but today things are no longer so simple. The operation of a truck is now largely dependent on computer systems, thanks to the introduction of complex and sophisticated technology. This approach enhances quality, but also demands a more precise approach to repair and maintenance.
Today's trucks are all about exclusivity
It has long been possible to select various options to customise a truck, ranging from basic elements to luxury features. Where things have changed, however, is that exclusivity now comes as standard with DAF. Even if you opt for a standard part, you can be assured of a certain level of luxury and quality. This is why we now only offer "basic" chairs for the passenger seat, and even the entry-level model for the driver's seat is air-sprung and extremely comfortable. It goes without saying that we also offer luxury options throughout, but even if you opt for the standard features, quality is guaranteed.
Want to know more?
If you are keen to discover more about the history of DAF trucks, visit the DAF history section on our website. Please don't hesitate to get in touch with your DAF dealer if you have particular questions or requirements in relation to DAF cabins. Your dealer will be happy to help.
Also read the other articles
Find your nearest DAF Dealer