We use cookies for a variety of purposes, such as website functionality and helping target our marketing activities. Some cookies are essential, others help us improve your experience by providing insights into how the site is used. For more information, please visit our Cookie Notice.
7 reasons why drivers prefer DAF
At DAF, we strive to improve trucks each and every day. One of our focus areas is driver comfort. This article explains why drivers are often so very satisfied with our cabins.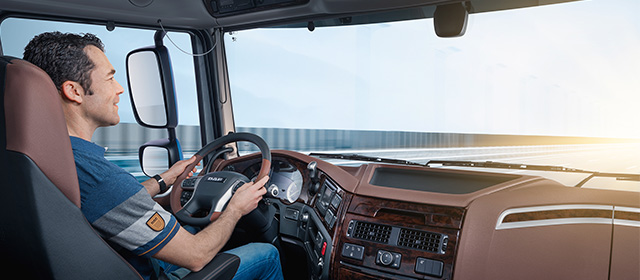 The most spacious cabin
DAF trucks have the most spacious cabins available on the market. Drivers see and experience this space in all elements of the cabin — whether they are working, sleeping or on a stop-off. There is significantly more space in the interior than in any other truck.
Top-quality beds
Our beds offer the best quality and are the most comfortable and also the widest. This gives drivers a lot of freedom to move and additional comfort — as driver Wilbert Kosten confirms: "I've slept in a variety of different trucks in my 24 years as a truck driver, but I definitely sleep best on a DAF mattress!"
Lots of storage space
The cabin is designed to maximise practical storage space so that drivers can keep both their work and personal items neatly stowed away at all times. If even more space is needed, the second bed can be replaced with additional storage.
User-friendly and streamlined
The control panel is streamlined and fully optimised for ease of use. We have thought of everything: from a pleasant and easy-to-read font on the dashboard to a Driver Performance Assistant (DPA) that helps the driver to drive economically. The large windscreen also makes driving the truck a more comfortable experience.
Pleasant surroundings
A DAF cabin offers a range of options for creating pleasant surroundings. The interior lighting has different levels and a dimmer function operated fully via an innovative rotary switch. The cabin also has a climate control system featuring options such as one-touch de-misting, auxiliary ventilation, auxiliary heating with timer, residual heat and automatic recirculation. The system is also extremely energy-efficient, helping to keep operating costs down.
Safety first
DAF was the first manufacturer to launch a night-time door locking feature — DAF Night Lock. The driver can lock the truck doors from the inside, making this an ideal crime-prevention feature. This additional night-time security solution also means that drivers can always rest easy in their bed and get a good night's sleep.
Flexible: completely customisable to individual requirements
Drivers can breathe a sigh of relief: Almost everything in the interior of the truck can be adapted to suit you. For instance, you can choose the look, the colours and the materials used for the dashboard, the steering wheel and the seats. Drivers can also fully configure the switches so that specific switches are positioned exactly where they want them — the possibilities are endless.
Want to know more about the CF and XF?
If you would like to know more about the options for the new CF and XF, check out the Interior Configurator and create your ideal cabin. You are also most welcome to contact your DAF dealer at any time for more information, tips and expert advice.
Find your nearest DAF Dealer