We use cookies for a variety of purposes, such as website functionality and helping target our marketing activities. Some cookies are essential, others help us improve your experience by providing insights into how the site is used. For more information, please visit our Cookie Notice.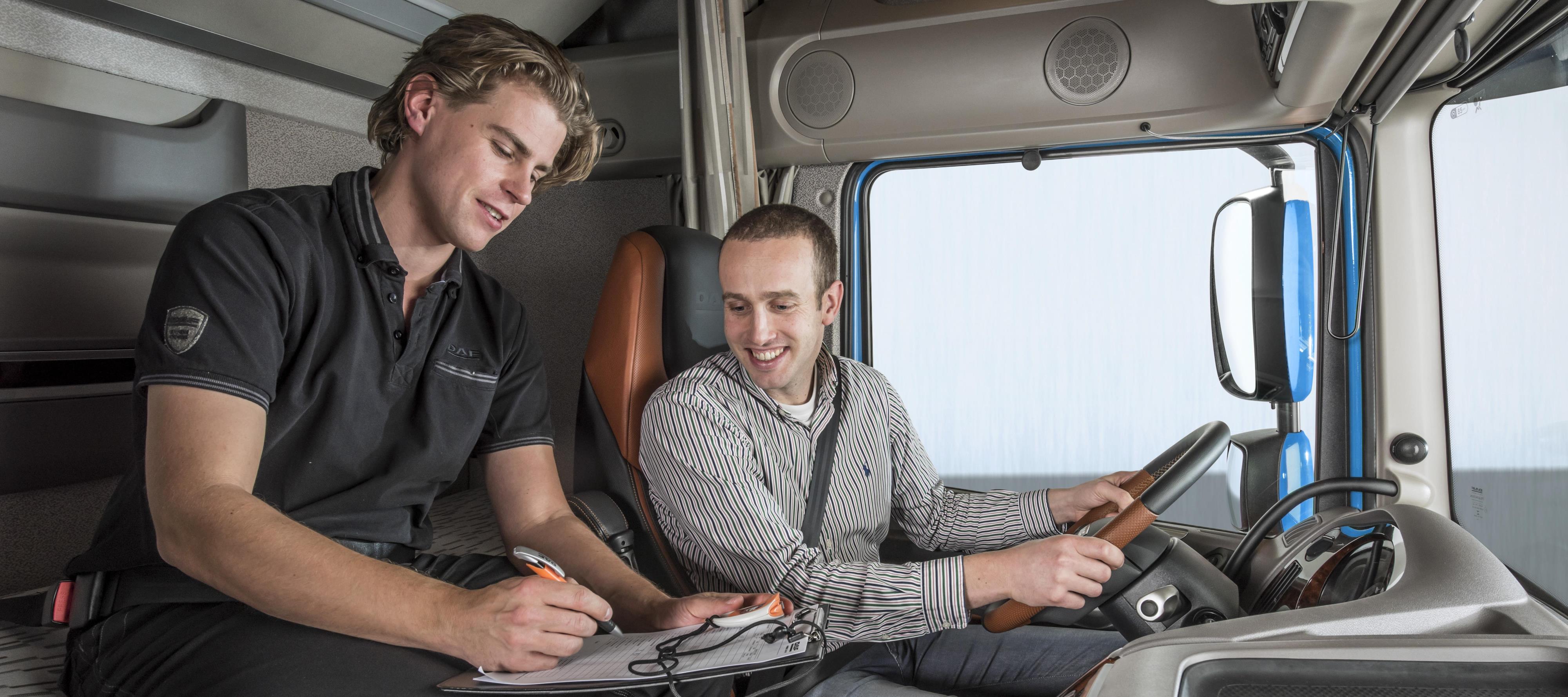 DAF expands roll-out of EcoDrive+ Training in Europe
DAF is rolling out its EcoDrive+ Training on a Europe-wide basis. The interactive training programme teaches drivers of a new DAF truck how to make optimal use of the systems on board of the vehicle. The result: a significant reduction in fuel consumption, lower maintenance costs and happy drivers.
The delivery of a new DAF LF, CF or XF always comes with a comprehensive explanation of the vehicle's features. After everything has been explained and the keys handed over, the driver also receives a voucher for a DAF EcoDrive+ Training programme. This voucher is valid for six months and the driver can use it to participate in an intensive 1-on-1 training session in his or her own truck. The training is provided by an instructor trained and certified by DAF.
Maximum performance from each drop of diesel
"Each new DAF truck has multiple – sometimes optional – systems on board that facilitate a more efficient, safer and relaxed drive," explains Pascal Hochstenbach of the DAF Driver Academy. "It is only when you know how to use them that you can achieve maximum performance from each drop of diesel."
Less wear and tear
An additional advantage of knowing how to use the engine brake and systems like adaptive cruise control correctly is that it leads to less wear and tear in the brakes, while systems like ACC and AEBS help to increase road safety. Hochstenbach: "The driver who knows their truck inside out also enjoys the drive a lot more. This is what makes the DAF EcoDrive+ Training programme more than worth the effort in terms of time invested."
10% more efficient
The EcoDrive+ Training programme generally takes about one day to complete and involves both theory and practical training. "Our drivers who have taken the training drive at least 10% more efficiently. That's an impressive return on investment," says Marek Gunia, Transport Director at BATIM in Poland. "I've also noticed a significant decrease in the damages of my vehicles. EcoDrive+ improves the drivers skills and their knowledge of the various vehicle systems. This makes my drivers even better professionals and noticeably happier in their work."
Roll-out
Drivers of a new DAF in France, Germany, Poland, the Netherlands and the United Kingdom, among others, are offered the training as standard. Depending on local Covid-19 measures, DAF will be rolling out its EcoDrive+ Training programme even further in the near future across Europe.