We use cookies for a variety of purposes, such as website functionality and helping target our marketing activities. Some cookies are essential, others help us improve your experience by providing insights into how the site is used. For more information, please visit our Cookie Notice.

"More safety when turning right"
GP Günter Papenburg AG
"Making a right turn in a left-hand drive vehicle is one of the most dangerous situations for our drivers", says Jan Klimant, a truck driving instructor at GP Günter Papenburg AG. In an interview, he explains why the company has equipped its new fleet of DAF vehicles with Brigade Turn Assistant and what the drivers think of the new system.
At the start of 2019, GP Günter Papenburg AG — a systems provider in the construction industry — added 25 new DAF trucks to its 700-strong fleet. All of the new vehicles were equipped with the Brigade Turn Assistant at the DAF dealership. "We had a couple of accidents and some vehicles were damaged on the road, mostly when the drivers were turning right. That is why it was so important for our new trucks to be equipped with a Turn Assistant", says Klimant. When making a left turn, the driver can see the entire left-hand side of the truck out of the window. However, this is not the case when turning right as the driver has the least visibility and would have to rely solely on the mirrors.
Audible and visual warnings
The Brigade Turn Assistant allows the driver to view the entire passenger side and the blind spot thanks to a side-view camera. Furthermore, Sidescan sensors that warn the driver of stationary and moving obstacles in the vicinity of the cabin are fitted to the truck. Audible and visual warnings in the cabin give information about the distance to the obstacle. "The Brigade Turn Assistant helps minimise damage to our trucks on the road and keep the driver safe in any driving situation", says Klimant.
Assistance when manoeuvring and reversing
Papenburg considers driver safety systems to be essential. "Our drivers have been finding it very easy to operate the new system and can really feel the benefit when making right-hand turns. Another advantage of Turn Assistant is that it can help drivers carry out reversing manoeuvres in locations such as construction sites", says Klimant.
A worthwhile investment
According to Klimant, trucks that remain in the fleet for any length of time and that do not yet have a Turn Assistant will eventually be retrofitted with the system. He finishes by saying "For every accident avoided as a result of the Brigade Turn Assistant, the system has paid for itself".
More information on the Brigade Turn Assistant can be found in the TRP eCatalogue.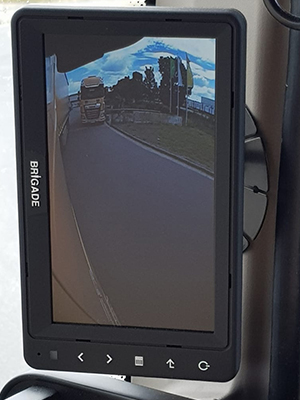 Want to know more? Contact your nearest DAF dealer