We use cookies for a variety of purposes, such as website functionality and helping target our marketing activities. Some cookies are essential, others help us improve your experience by providing insights into how the site is used. For more information, please visit our Cookie Notice.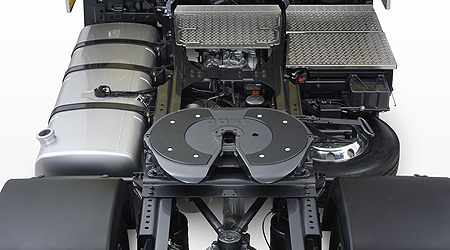 A solid foundation
The XF105 has a highly compact chassis layout, one that cleverly integrates the exhaust silencer, battery carrier, new 100 litre AdBlue tank, and dosing unit all into one module. Also, by designing the air tanks and brake components layout on the inside of the chassis, space has been created for extra large fuel tanks. The tractor unit can be supplied with a fuel tank capacity of up to 1,500 litres, which allows refuelling at the home base, or where it best suits the operation.
The robust XF-chassis is made of high quality steel, resulting in an exceptionally strong but lightweight chassis for high payloads.
The XF105's chassis frame is completely flat, making it the perfect base for any superstructure. To make the body builder's job as easy as possible, the main frame members are pre-drilled to ensure easy mounting of the body. A Body Builder's Module (BBM) can also be provided to facilitate communication between the electric systems of vehicle and body.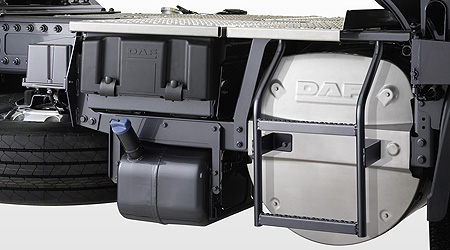 Contact your nearest DAF Dealer