DAF respects your privacy. We use cookies for a variety of purposes, such as website functionality, improving your experience of our website, building integration with social media and helping target marketing activities within and beyond our website. By continuing your visit on our website, you are consenting to our use of cookies. However, if you want to customize your cookie preferences, click on 'Change settings' below. You can withdraw your consent at any time. For more information, please visit our Cookie Notice.
DAF Trucks Vlaanderen named "Happiest Place to Bike"
Minister Lydia Peeters hands over the certificate
DAF Trucks Vlaanderen has been crowned "The Happiest Place to Bike". The Flemish Minister for Mobility and Public Works, Lydia Peeters, handed over a certificate proclaiming this fact to the cab and axle factory in Westerlo today. "When it comes to encouraging cycling, DAF has taken a pioneering role", says the minister.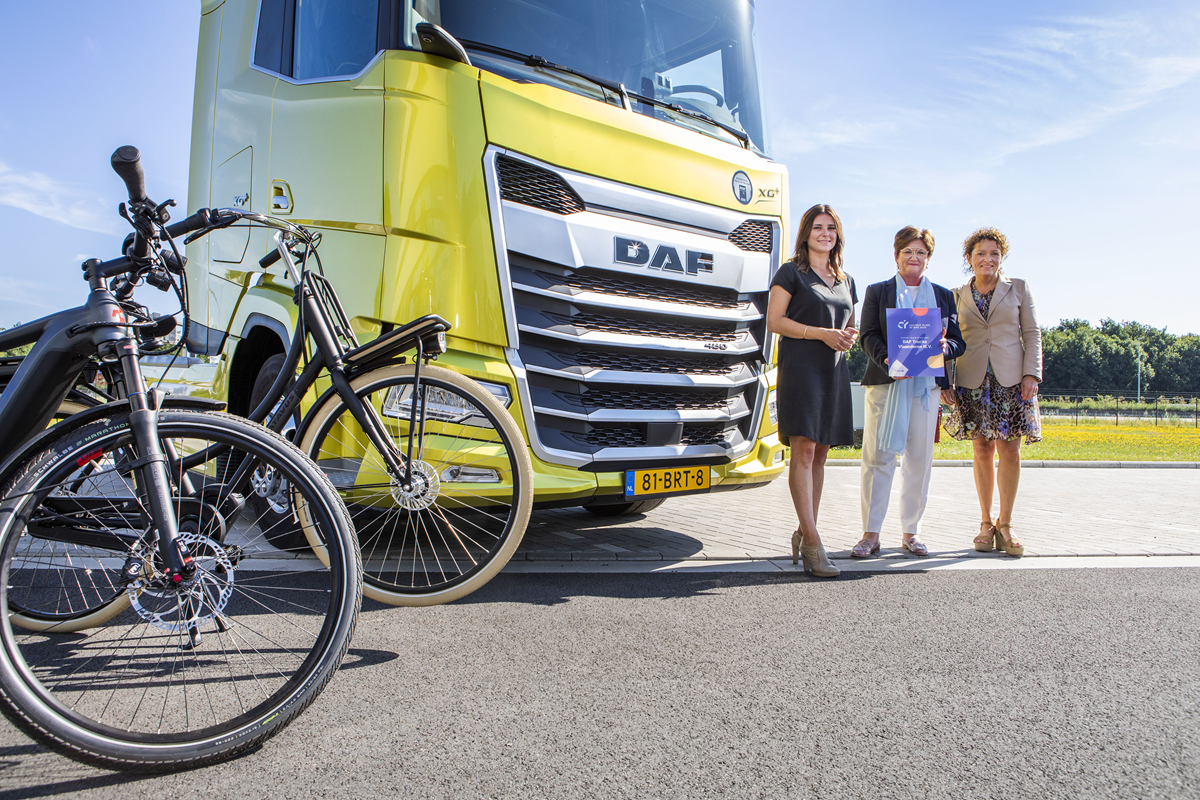 "Companies such as DAF Trucks encourage their employees to leave the car at home", the minister notes. Peeters continues, "This promotion of cycling is reflected by DAF being named as 'The Happiest Place to Bike'. We want to increase the bicycle's share of functional journeys in Flanders to 20% by 2025 at the latest. We can certainly still see a lot of opportunities as far as commuting is concerned, which is why we're investing in safe and convenient cycle paths and bicycle routes. This will help us reduce the traffic on our roads while also reducing CO2 emissions."


Encouragement
DAF Trucks Vlaanderen actively encourages employees to get to work by bike. "That's healthy for the body, the mind and of course the environment," says Claire Meuws, HR Director of the Flemish DAF factory. The factory, which was recently expanded with brand-new facilities for the production of a whole new generation of trucks, produces around 250 cabs and axle sets every day.


"Great boost"
Out of nearly 3,000 employees, about 1,000 participate in the bicycle lease scheme. They benefit from attractive tax benefits, receive a bicycle allowance from DAF and can purchase a bicycle at very reduced prices.

Meuws adds, "In addition, electric bicycles can be charged in our large bicycle shed. So even if you live a little further away, you can still cycle to DAF. The title of 'Happiest Place to Bike' is a great boost for the organisation and for my cycling colleagues. I hope that this award serves as an inspiration for those colleagues who do not yet cycle to work!"


Bicycle-friendly policy
Another indication of the ambition of DAF Trucks Vlaanderen is that it is also the main sponsor of I Cycle to Work Day. This initiative, which is organised by Cyclis Bike Lease, is actively supported by the Flemish government. Roel Gielen from Cyclis Bike Lease says, "We want to encourage cycle usage. That is why we organise the national I Cycle to Work Day annually — to allow as many people as possible to cycle to work at least once. With initiatives like this one, Cyclis wants to encourage companies to adopt a bike-friendly policy."
Press Contacts
Are you a journalist? Contact us for more information about the company, our products and services or any other subject.
Rutger Kerstiens
Corporate Communications Department