DAF respects your privacy. We use cookies for a variety of purposes, such as website functionality, improving your experience of our website, building integration with social media and helping target marketing activities within and beyond our website. By continuing your visit on our website, you are consenting to our use of cookies. However, if you want to customize your cookie preferences, click on 'Change settings' below. You can withdraw your consent at any time. For more information, please visit our Cookie Notice.
First DAF 6x2 CF Electric rear loader in the Netherlands put into service by Renewi
Renewi, the international waste-to-product company, is taking an important step towards greater sustainability for its fleet. A fully electric refuse collection vehicle was commissioned on Monday, 11 April: a DAF 6x2 CF Electric with a Geesink rear loader system — the first DAF FAN CF Electric with a rear loader for refuse collection applications in the Netherlands. Lucas Willems, Fleet Sales Manager at DAF Trucks N.V., handed the truck over to Marc den Hartog, Managing Director at Renewi Nederland.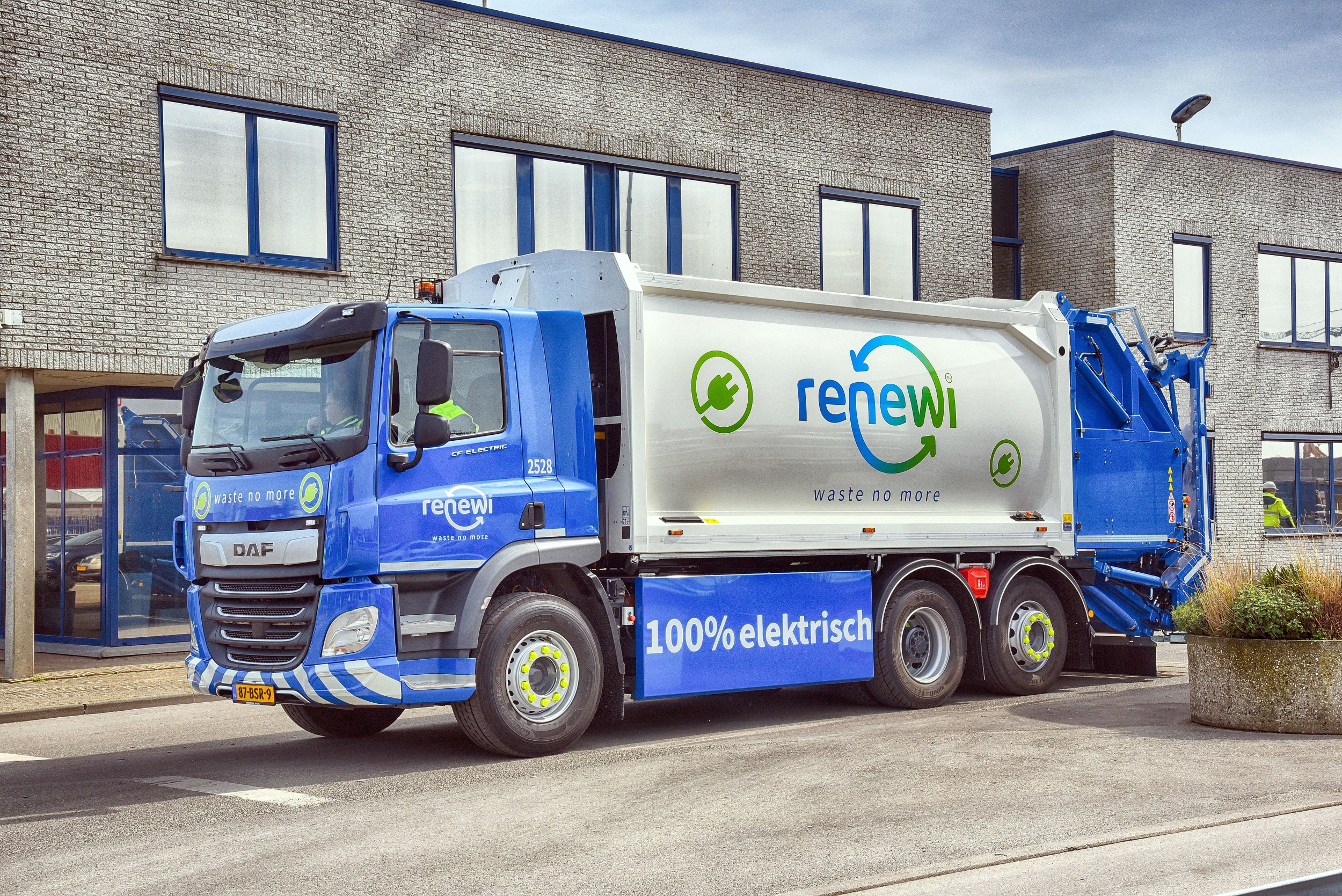 "The DAF CF fits in with our logistics operation", according to Den Hartog. "Our collection process already involves a lot of driving so we are very interested in an electric version of the truck. It is an important step towards greater sustainability for our fleet and also allows us to fulfil our customers' wishes for sustainable services. More and more municipalities are requesting the use of electric vehicles for collections, as this provides a way to pursue a CO2 neutral solution. We expect to deploy more electric vehicles in the future."

Renewi is putting the CF Electric into service in the Rotterdam region. The average driving range of 200 km is more than sufficient for waste collection in urban areas. The short successive pick-up points, low speed and regeneration when braking make excellent use of the battery pack's capacity. Renewi charges at fixed charging points, with charging intervals fully integrated into the planning process for the company's operations. It takes 75 minutes to charge the battery at a charging station with a power of 250 kilowatts.
Short wheelbase specifically modified for the rear loader
The DAF FAN CF Electric has a short wheelbase that has been modified for the rear loader superstructure. Since last year, the DAF CF Electric has gained a more powerful battery pack with a capacity of 350 kWh, which is considerably lighter than the previous generation. This is a reduction of an impressive 700 kg, which means that the net load capacity of the DAF CF Electric (GVW 28 tonnes) for waste collection is now 10,000 kg.
Lucas Willems: "The supplier, GeesinkNorba, uses the very energy-efficient Li-On Power Pro E-PTO to drive the rear loader and the compactor system. This PTO only needs about 1.5 kWh per 1,000 kg of waste, which is superb".
Redirect waste streams into raw materials and energy
Reducing its ecological footprint is a top priority for Renewi and the company is preparing its fleet for the introduction of environmental zones in a number of city centres. Sustainability is one of the recycling company's core values and underpins everything the organisation does. 89% of the waste that is processed is given a second life as a raw material or energy, and that alone saves a considerable amount of CO2. Renewi processes 14 million tonnes of waste every year — the company has a large network of more than 165 sites in the Benelux states and is active in six countries.
Press Contacts
Are you a journalist? Contact us for more information about the company, our products and services or any other subject.
Rutger Kerstiens
Corporate Communications Department
The DAF CF in more detail