We use cookies for a variety of purposes, such as website functionality and helping target our marketing activities. Some cookies are essential, others help us improve your experience by providing insights into how the site is used. For more information, please visit our Cookie Notice.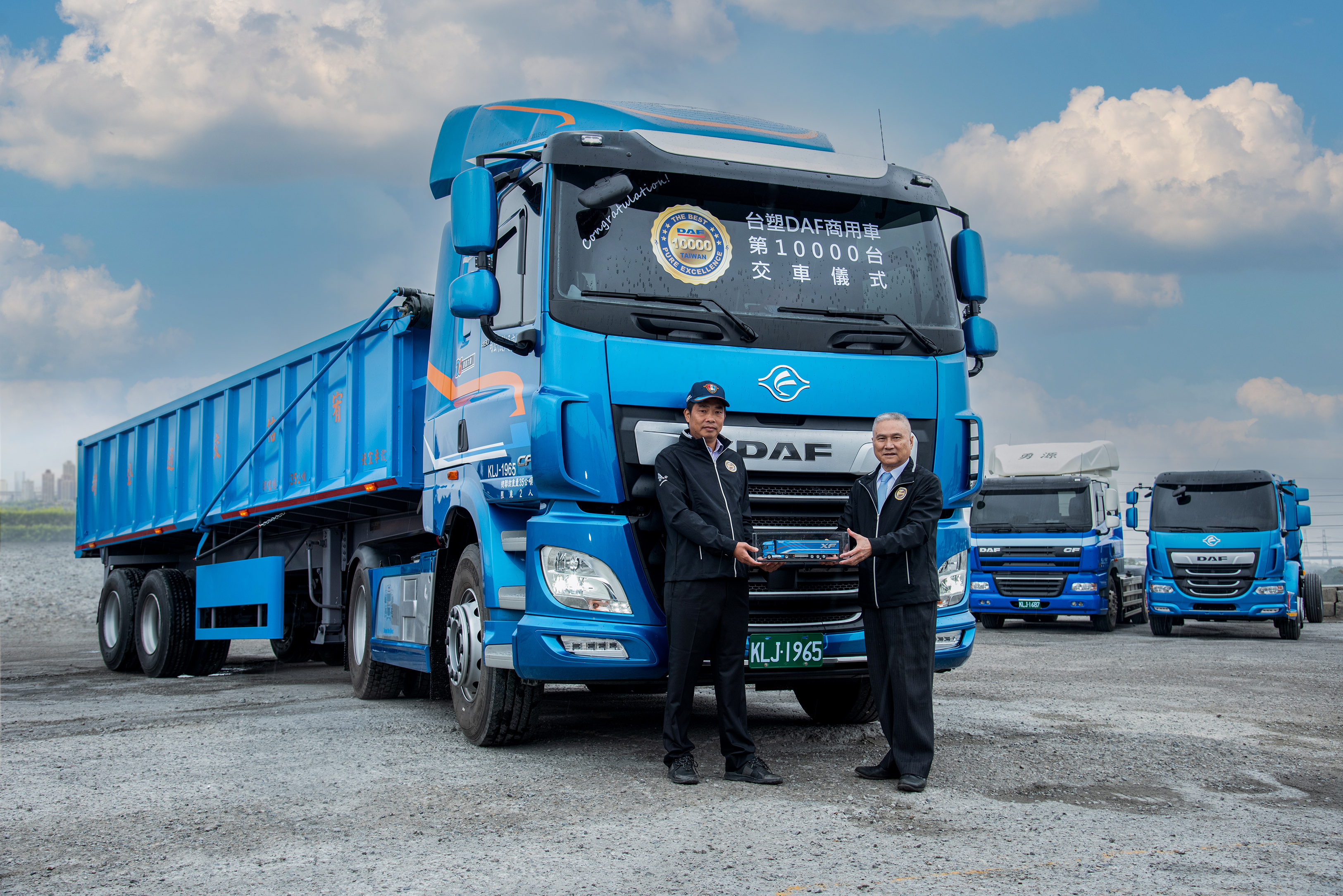 10,000th DAF truck built in Taiwan
In Dadu, Taiwan, the 10,000th locally assembled DAF truck has rolled off the assembly line just three years after production of the 5,000th vehicle. With a market share of almost 37% in the 12 ton+ segment, DAF is the undisputed market leader among non-Asian truck brands on the island. The company's success in Taiwan is expected to further expand thanks to the recent introduction of the new Euro 6 truck series.
Since 2005, every week, DAF Trucks has been shipping components for the popular LF and CF series from its factories in Eindhoven and Leyland to Taiwan, where its partner, the Formosa Plastics Group, nowadays assembles five to six DAF trucks per day on a recently completely modernised production line. All these vehicles are powered by reliable and efficient Euro 6 PACCAR engines.
High-quality trucks
"Each DAF truck assembled in Taiwan showcases the same high quality as the trucks that come off the production lines in the Netherlands and the UK," according to Jan van Keulen, director Sales Operations and responsible for DAF's global markets. "The 10,000th Taiwanese DAF truck is a CF 480 tractor unit which will be used to transport gravel and concrete all around Taiwan."
"Vehicles are unrivalled"
Zhi-Yong Qiu, CEO of Yong Yuan Transport Corporation, ordered the 10,000th Taiwan-built DAF truck on the basis of nearly 15 years of positive experience with the DAF brand. "Our mixed fleet consists of about 300 vehicles. Some years ago I decided that each new vehicle would have to be a DAF product. Simply because these vehicles are unrivalled when it comes to fuel consumption, reliability and safety. In addition, the local DAF dealer network and their repair and maintenance support is outstanding."
"We are raising the bar even higher"
"Indeed, DAF's excellent reliability, low costs per kilometre and highest driver comfort set the standard in the industry," explains Seiko Chen, Chairman of Formosa Plastics Transportation Corporation and Senior Vice President of Formosa Plastics Group. "And now, with the introduction of the latest Euro 6 DAF trucks, we are raising the bar even higher. In addition, these excellent vehicles are backed by top-quality service and excellent parts supply through a tight network of official DAF dealers and service points all around the country."
"Great compliment to the team"
"We are truly proud of our partnership with the Formosa Plastics Group," says Richard Zink, Director Marketing & Sales and member of the Board of Management at DAF Trucks. "In close cooperation, we are building fantastic trucks that are highly valued by the market because of their performance and also their build quality. That is a great compliment for the dedication and professionalism with which the Formosa Plastics Group team assembles the premium LF and CF series."
Press Contacts
Are you a journalist? Contact us for more information about the company, our products and services or any other subject.
Rutger Kerstiens
Corporate Communications Department