We use cookies for a variety of purposes, such as website functionality and helping target our marketing activities. Some cookies are essential, others help us improve your experience by providing insights into how the site is used. For more information, please visit our Cookie Notice.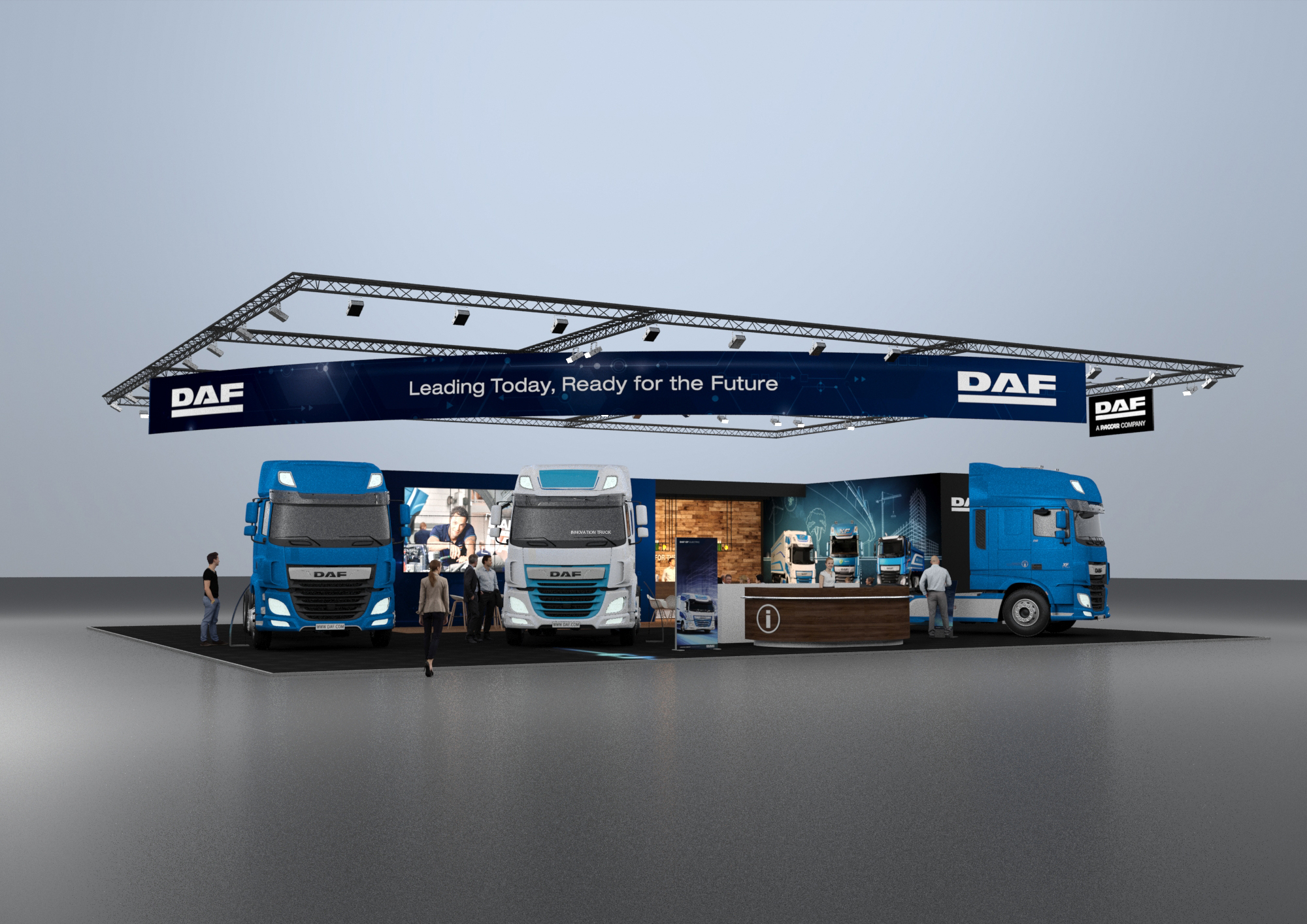 DAF Trucks at Solutrans Exhibition in Lyon
DAF CF Electric and new CF FAW trucks on display
DAF Trucks is participating at the bi-annual Solutrans exhibition, taking place from November 19 till 23, 2019 in Lyon, France. On display at the DAF stand will be, among others, the DAF CF Electric.
DAF will have its 450 m2 stand in Hall 5 of the Solutrans exhibition and will have 3 vehicles on display, including the new 8x4 DAF CF FAW chassis for a wide variety of applications and a 4x2 XF Super Space Cab for heavy haulage. They will be next to the full electric DAF CF Electric tractor which is part of extensive customer field tests in Germany and the Netherlands.
New FAW
The new FAW rigid chassis – available as both CF and XF – features a tridem with a double-driven tandem for excellent traction and a steered trailing axle for an industry-leading maneuverability. The new 8x4 FAW chassis has a technical GVW of 44 tonnes and is perfectly suited for transporting large or heavy loads to for instance construction sites where there is relatively little space. The new chassis is the ideal basis for a tipper or concrete mixer superstructure or for bodies with a hook lift system.
DAF CF Electric
The DAF CF Electric, which takes part in extensive customer field tests, is a full electric 4x2 tractor unit, developed for distribution applications (GCW's up to 37 tonnes) in urban areas, where single-axle or dual-axle trailers are the standard. The core of the intelligent VDL E-Power Technology powertrain is a 210-kW electric motor, powered by a lithium-ion battery pack with a current total capacity of 170 kWh. The CF Electric has a range of up to 100 kilometres making it suitable for zero emissions high-volume transport in urban areas. The batteries have a 30-minute quick-charge feature and a full charge takes just one and a half hours.
Dedicated DAF services for construction segment
At Solutrans, DAF also presents its wide range of services; from very competitive PACCAR Financial services to tailor-made DAF MultiSupport repair and maintenance contracts, including dedicated products for the construction industry for instance, like 'Uptime packages' with guaranteed uptime.
'Continuing growth in France'
Philippe Canetti, Managing Director of DAF Trucks France: "France is the second largest truck market in Europe, on which DAF is performing excellently, thanks to industry-leading trucks and services. The success is illustrated by the continuing growth of DAF's market share in France; from a record 13,2% full year 2018 to 13,6% in the first three quarters of this year. DAF is the first import tractor brand in France and we – together with our professional dealer network – are fully committed to become as successful in the rigid segment as well."
Press Contacts
Are you a journalist? Contact us for more information about the company, our products and services or any other subject.
Rutger Kerstiens
Corporate Communications Department