We use cookies for a variety of purposes, such as website functionality and helping target our marketing activities. Some cookies are essential, others help us improve your experience by providing insights into how the site is used. For more information, please visit our Cookie Notice.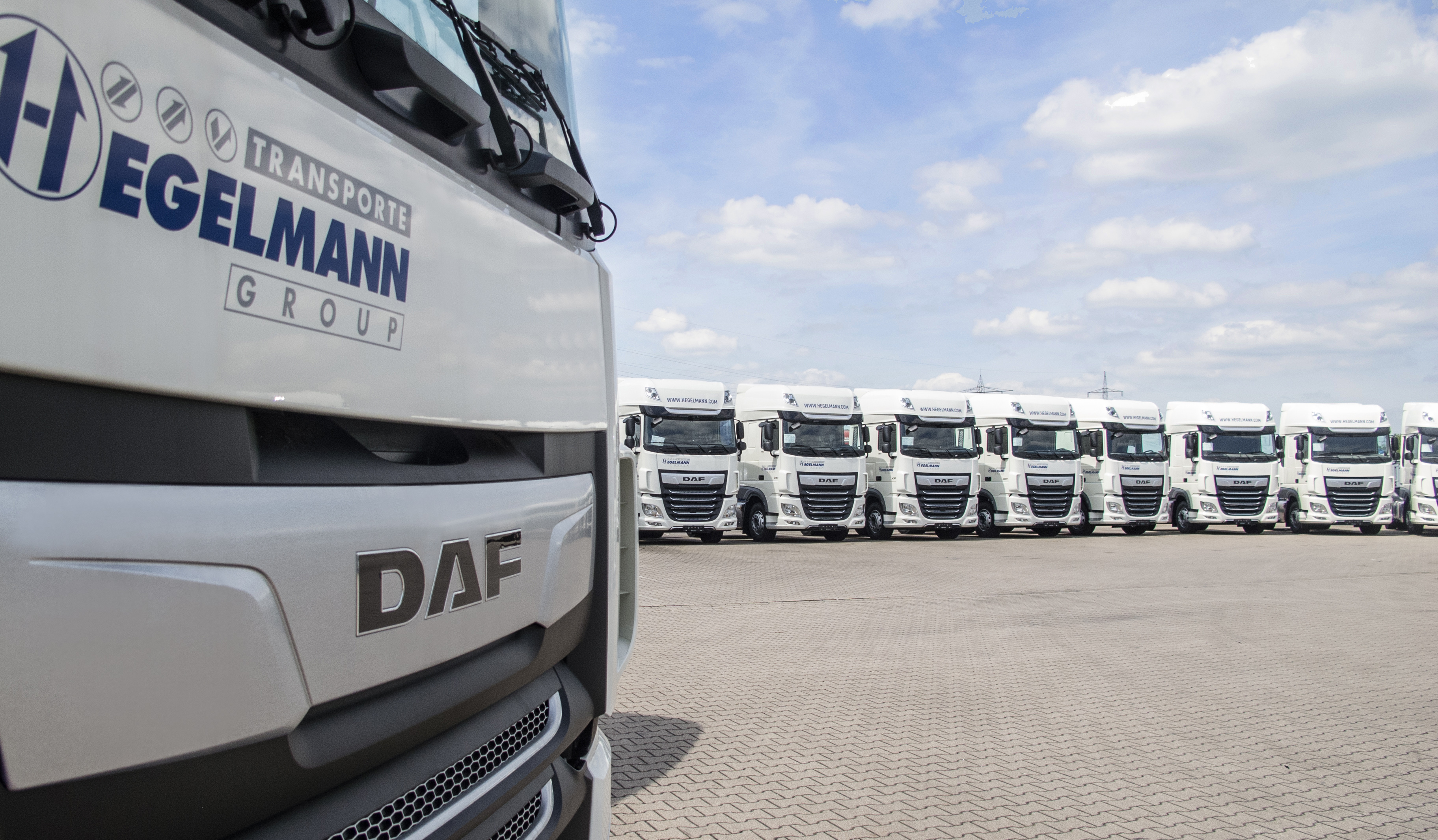 540 DAF XFs for Hegelmann Transporte Group
Further major fleet order for DAF Trucks
Renowned international transport company, Hegelmann Transporte Group, is expanding its fleet with 540 DAFs XF 480 Super Space Cab. The tractor units will be supplied to the south German company on a programmed delivery throughout 2019 and 2020. It is the third large order in quick succession for DAF Trucks following orders for 400 trucks from waste-to-product company Renewi, and a 1,500 unit order from fleet operator Girteka Logistics.
Hegelmann Transporte was established in 1998 and has specialised in just-in-time transport for the car, heavy and food industry. Hegelmann's 4,000 employees, 2,000 trucks and 2,000 trailers operate from the Algarve to the Chinese border. The company's headquarters are located in Karlsdorf-Neuthard, near Stuttgart.
Maximum uptime, highest ROI
"To make our international growth strategy a success, we require maximum uptime and the highest possible return per kilometre," states Siegfried Hegelmann, one of the two owners of the family business. "DAF understands that like no other. Our profitability is their goal – that makes DAF our ideal partner."
Drivers put DAF on a pedestal
Hegelmann previously bought more than 100 trucks from the latest generation XF, the International Truck of the Year 2018. Drivers praise cab comfort and space in the Super Space Cab alongside excellent driving characteristics inherent in DAF's top-of-the-range model. "Because there is a large shortage of professional drivers, this also plays an important role in our choice to once again opt for the DAF XF," says Siegfried Hegelmann.
Unrivaled low fuel consumption
The newly ordered trucks are equipped with Predictive Cruise Control (PCC), Lane Departure Warning System (LDWS), Advanced Emergency Braking System (AEBS) and Adaptive Cruise Control (ACC), ensuring both comfort and safety at the highest level. The 355kW / 483 hp PACCAR MX-13 engine delivers unprecedented souplesse against unmatched fuel consumption.
No less than 1,100 service points
For the maintenance of its trucks - the XF has service intervals of up to 200,000 kilometers - Hegelmann relies on the dense DAF dealer network of more than 1,100 dealers and service points in Europe. In addition, the company has selected DAF MultiSupport for repair and maintenance contracts, ensuring timely preventive maintenance and optimum vehicle availability.