DAF respects your privacy. We use cookies for a variety of purposes, such as website functionality, improving your experience of our website, building integration with social media and helping target marketing activities within and beyond our website. By continuing your visit on our website, you are consenting to our use of cookies. However, if you want to customize your cookie preferences, click on 'Change settings' below. You can withdraw your consent at any time. For more information, please visit our Cookie Notice.
We are always ready for repair and maintenance, for both truck and trailer. Our reliability and professionalism have one obvious result: better service – better DAF, And that's all thanks to our one-stop shop.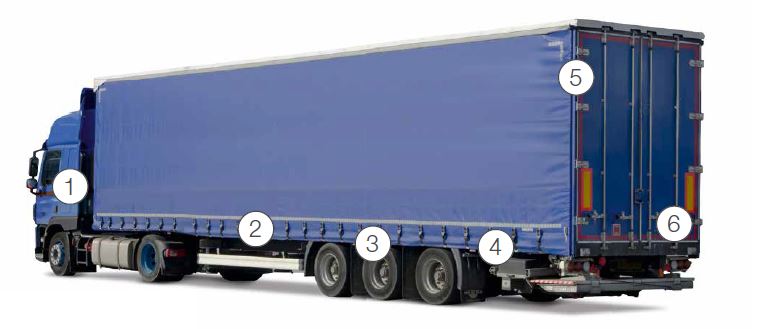 We understand how important it is for you to maintain an overview of your vehicles and to maximise vehicle uptime for your business. We know that you need a partner who can take care of your truck and also support you with parts and professional maintenance for your trailer. You're looking for a reliable business partner, whose technicians have all of the knowledge needed to perform maintenance and repairs on your trailer. DAF is the answer — we are truly a one-stop-shop!
1. Connection
The connection between truck and trailer is important to make sure that the trailer air system and electrics work well. Therefore we advise you to also bring your trailer so that your DAF dealer can check the connection via the couplings and coils.
2. Brakes
Our customers indicate that brakes are the most safety-critical parts also on a trailer. We think so too. Neglected brakes can cause grave accidents. Did you know that almost 40% of trailer breakdowns relate to the brake system? This makes it all the more important for you to invest in high-quality products, maintenance and repair for your trailer braking systems.
3. Axles
You can save energy and money by keeping your axles well aligned and lubricated. It is important to invest in a frequent inspection of your wheel bearing clearance. Did you know that bearings wear because they connect rotating and ridged parts? A bearing with too little grease can cause overheating and a clearance that is too loose can cause extreme tyre-wear. Worn parts need replacement to prevent breakdown.
4. Suspension
A well maintained suspension system makes driving more comfortable for the driver. It also helps to keep the driver, the load and the other road users safe. A neglected air controlled suspension system can often lead to breakdowns. Over 10% of all trailer breakdowns are related to the air suspension system, mainly caused by failing air bellows, shock absorbers, air valves, suzies or ride height control.
5. Load Security
Concerning the goods you transport: safety first! It's your responsibility to make sure your load is securely fastened. This prevents damage to the goods, other road users and yourself. In order to improve the safety on the roads, also roadside inspections become more frequent. That's the reason that all our load security solutions are tested, certified and have type approval. Safety first, second to none.
6. Lighting
A driver needs to be able to see well to act and react. At night, during rainfall, snow and fog, his eyes need a reliable lighting system he can rely on. It keeps the driver, the load and other road users safe. A neglected lighting system can often lead to breakdowns. Over 15% of all trailer breakdowns relate to the lighting system and are caused by broken bulbs, units and wires.
Find your nearest DAF Dealer