We use cookies for a variety of purposes, such as website functionality and helping target our marketing activities. Some cookies are essential, others help us improve your experience by providing insights into how the site is used. For more information, please visit our Cookie Notice.

Electric & hybrid trucks
State-of-the-art Innovation Trucks demonstrate the road to the future
To underline our powertrain leadership we have presented a series of advanced Innovation Trucks. These include the LF Electric and CF Electric for medium and heavy duty city distribution, as well as the CF Hybrid for mid-range distribution with zero emissions in urban areas in urban areas, while offering a much longer range beyond, thanks to the latest, ultra-clean diesel technology. These innovative solutions have been developed to champion the needs for improving local air quality in cities, as well as reducing CO2 emissions.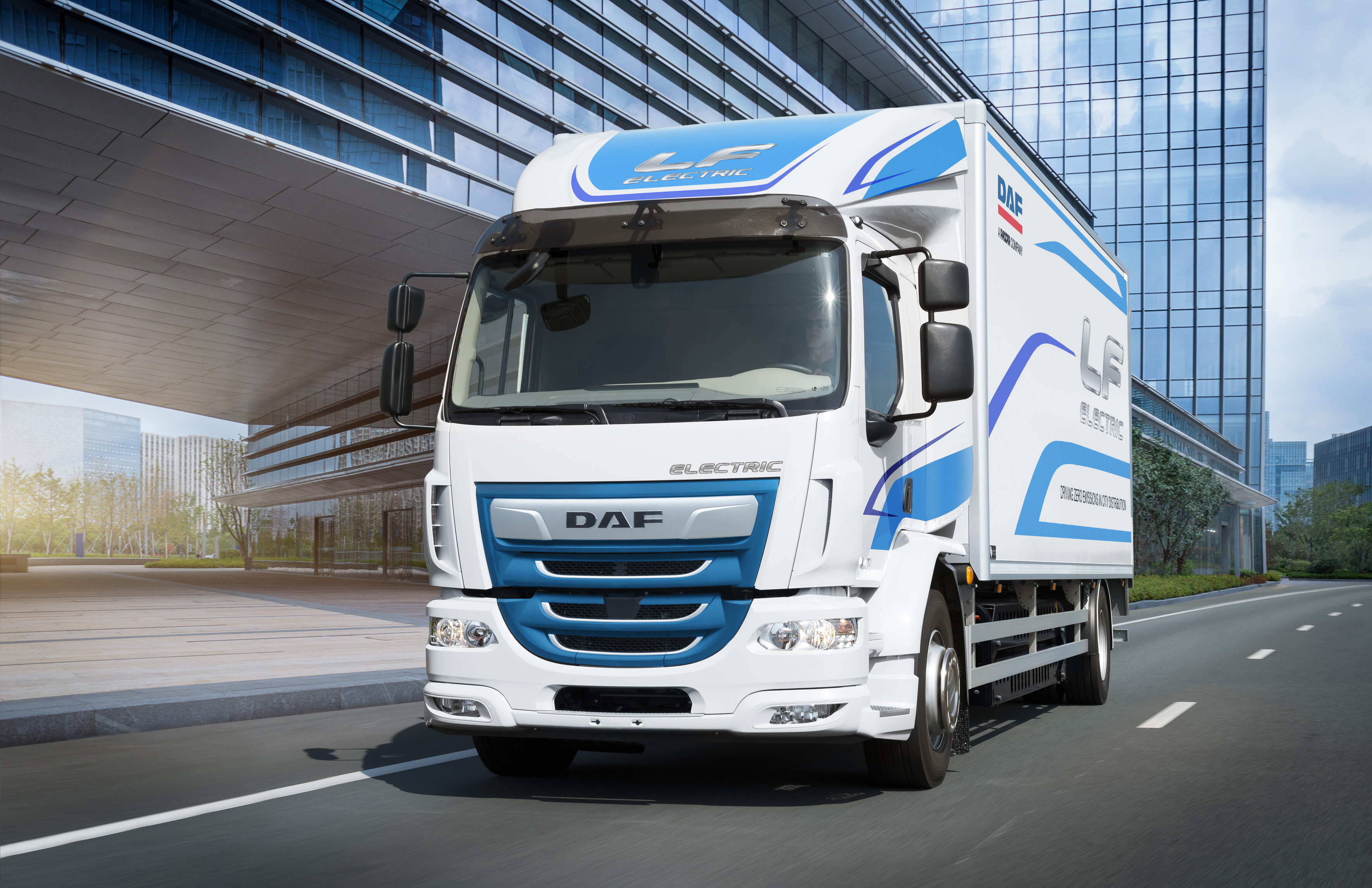 DAF LF Electric Innovation Truck
The DAF LF Electric is a 19 tonne fully electric truck for zero emissions city distribution. The truck features Cummins technology with a 195 kW/266 hp electric motor (peak: 250 kW/340 hp). The motor is powered by a battery pack of up to 222 kWh, providing a range of up to 220 kilometres when the truck is fully laden. As the battery pack is modular, capacity can be scaled to the range required by customers. For city distribution the 220 kilometre range of the DAF LF Electric is ideal.
DAF CF Electric Innovation Truck
The DAF CF Electric is the ideal zero emission solution for urban distribution requiring higher payloads and volumes. This includes applications where single or double axle semi-trailers are the standard, such as in supermarket delivery.
The CF Electric is a 4x2 tractor unit for up to 37 tonne GCW applications. The truck is based on DAF's versatile CF series – 'International Truck of the Year 2018' – and uses VDL's advanced E-Power Technology for fully electric operation. The centre of the intelligent powertrain is the 210 kW/286 hp (peak: 240 kW/326 hp) electric motor, which gets its energy from the 170 kWh lithium-ion battery pack.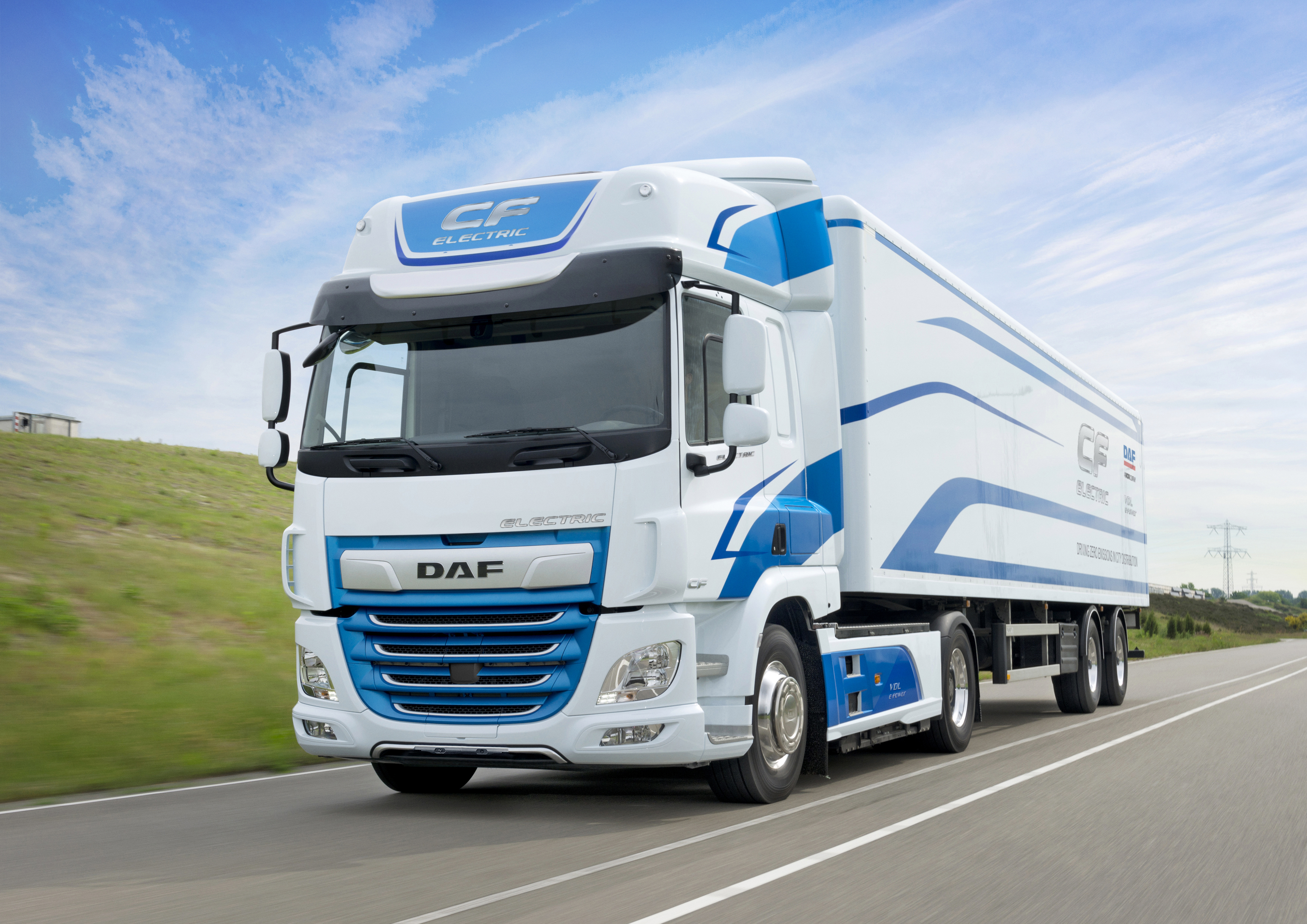 The CF Electric has a range of approximately 100 kilometres which is appropriate for high volume city distribution applications. Quick charging of the batteries can be performed in 30 minutes or a full charge can be accomplished in as little as 1.5 hours. Freight loading and unloading time can be used to charge the battery pack.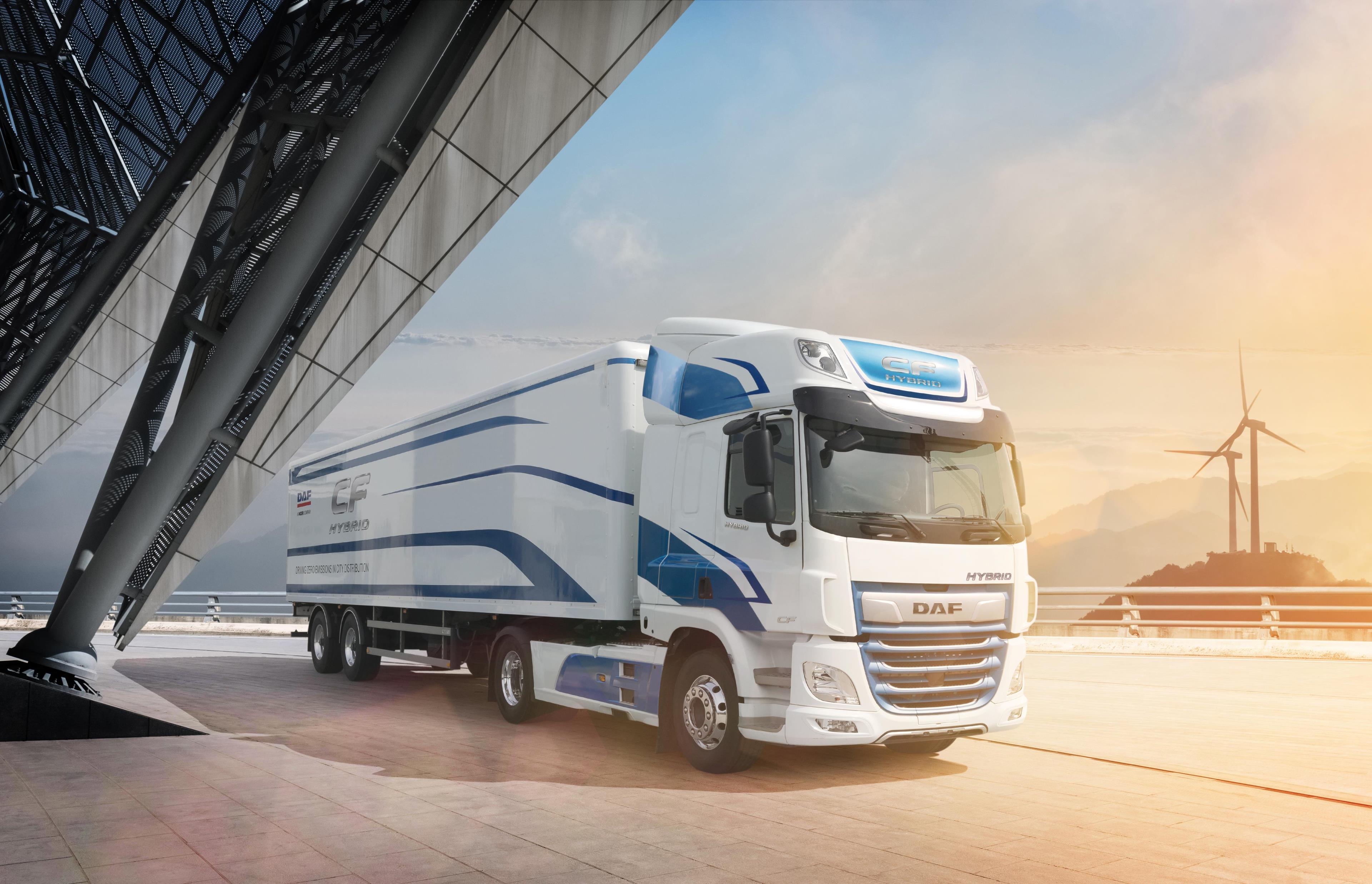 DAF CF Hybrid Innovation Truck
The DAF CF Hybrid has been developed for driving electrically with zero emissions in urban areas, while offering a much longer range to operate beyond those urban areas, thanks to the latest, ultra-clean diesel technology. The combination of electric and diesel power ensures the highest logistical efficiency.

The sophisticated DAF CF Hybrid features the very efficient 10.8 litre PACCAR MX-11 engine (330 kW/450 hp), a ZF electric motor (75 kW/100 hp / peak: 130 kW/175 hp), in combination with a dedicated ZF TraXon gearbox for hybrid drivelines.
The electric motor is powered by an 85 kWh battery pack, which allows for a full electric, zero emission range of 30 to 50 kilometres, depending on the Gross Combination Weight. The batteries can be charged by the diesel engine during on-highway operations, and by using a DC charger at a charging location. The vehicle is designed with a fast charge capability that takes 30 minutes for a full charge and only 20 minutes for a charge of up to 80%.

Outside urban areas, the CF Hybrid is powered by the clean and efficient PACCAR MX-11 diesel engine, where the hybrid technology provides additional fuel savings thanks to the smart energy management. Regenerative energy is captured during braking and when using speed-related controls like Down Hill Speed Control and Predictive Cruise Control. This energy can be used by the electric motor to operate in conjunction with the diesel engine to further reduce fuel consumption.
The battery pack of the hybrid system powers the electric driveline, the electric air compressor, as well as the optional intelligent e-PTO. The e-PTO can be used to drive refrigeration equipment on semi-trailers for temperature controlled transportation further enhancing low noise operation.
Field tests
The first CF Electric trucks are released into field test operation with leading customers in 2018 and similar field tests are planned to start with the LF Electric and CF Hybrid in 2019. DAF will be ready to introduce these state-of-the-art trucks when the market is ready.