DAF respects your privacy. We use cookies for a variety of purposes, such as website functionality, improving your experience of our website, building integration with social media and helping target marketing activities within and beyond our website. By continuing your visit on our website, you are consenting to our use of cookies. However, if you want to customize your cookie preferences, click on 'Change settings' below. You can withdraw your consent at any time. For more information, please visit our Cookie Notice.

DAF CF Electric
Extended e-range
Fully electric driving with a range of 200 kilometres
For higher volumes and weights
The DAF CF is renowned as an all-round vehicle, and the CF Electric is every bit as versatile. It's available as a two-axle tractor unit and as a three-axle rigid truck. Do you need to supply round-the-clock deliveries to city supermarkets? Provide refuse collection in a residential area? Or offer a regular shuttle service between two production facilities? The CF Electric is the ideal solution.
At the heart of the vehicle is a 210 kW (240 kW peak power) electric motor that draws electrical power from a 315 kWh (350 kWh effective) battery pack. The high torque available from standstill is impressive and creates a unique driving experience.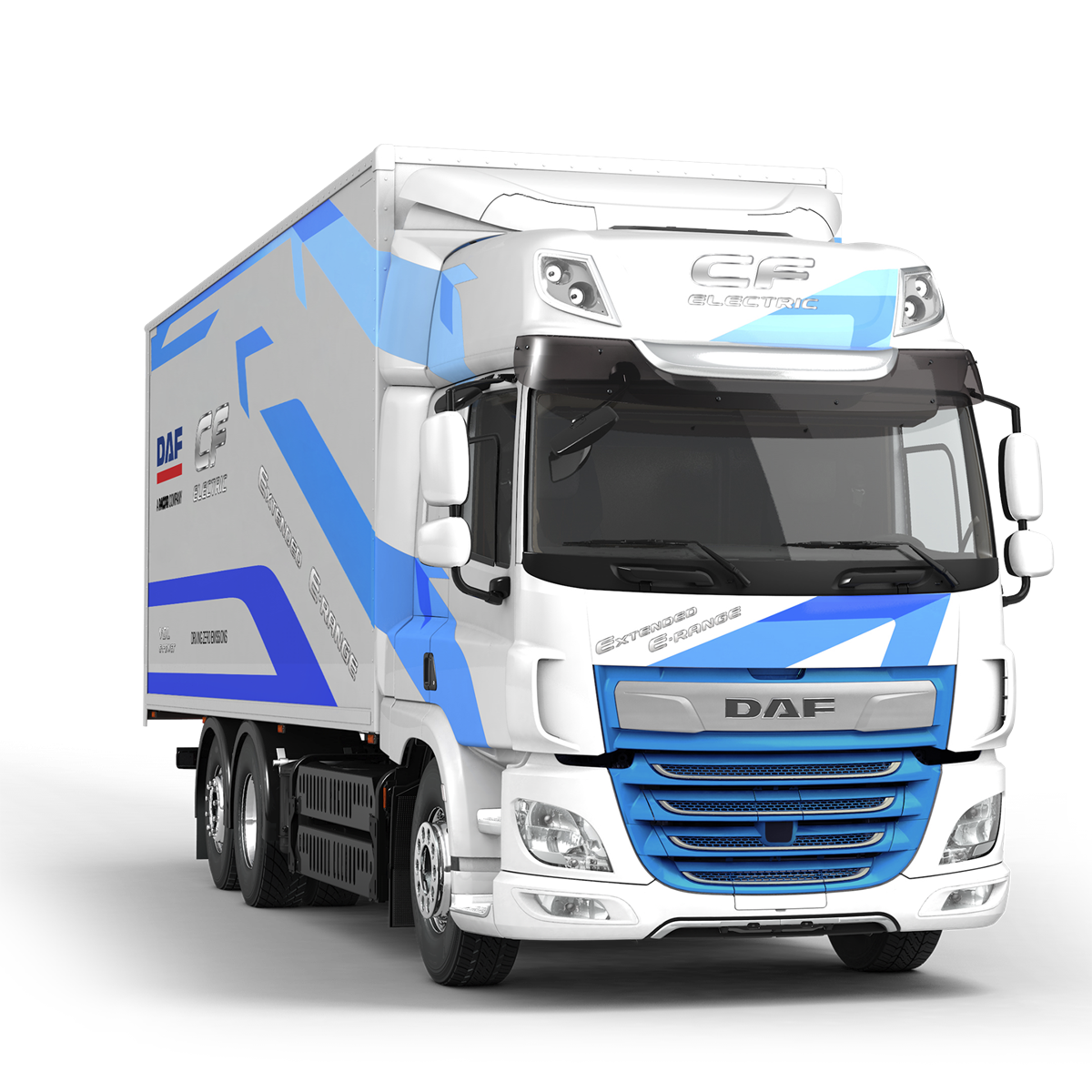 200-kilometre range
As a transport operator, the maximum range of your truck is vital. With the CF Electric, it's an impressive 200 kilometres. With smart journey planning and interim battery charging during loading and unloading, you can easily have your CF Electric in operation 24/7. Many other transport operators have already purchased a CF Electric and are easily clocking up 500 kilometres or more per day. And if you want to run the batteries down completely, you can bring them back up to full charge in just 75 minutes with a quick charger (250 kW/400 A).
Energy regeneration
When braking, the electric motor works as a generator producing energy for storage in the batteries whilst slowing the vehicle. The CF Electric has three levels of regenerative braking controlled by a steering column stalk, similar to an intarder on a diesel truck. This contributes to a higher vehicle range and reduces brake wear.
Smart e-PTO
DAF can supply the CF Electric with an e-PTO to power auxiliary equipment and bodywork as required. This eliminates the need for a separate power source and allows you to use electrically powered refrigeration and waste collection equipment – making your truck completely CO2 emission-free from front to back.
Two and three-axle configurations
DAF supplies the CF Electric as a two-axle tractor unit (GCW: 37 tonnes) that's ideally suited for emission-free, almost silent supermarket deliveries. The three-axle rigid truck (GVW: up to 29 tonnes) has a steered trailing rear axle for maximum manoeuvrability and is the ideal base for a refuse collection vehicle or distribution truck.
What's more, the CF Electric also offers the same features that the diesel CF is known for: maximum efficiency thanks to proven reliability and a high load capacity, plus optimum driver comfort.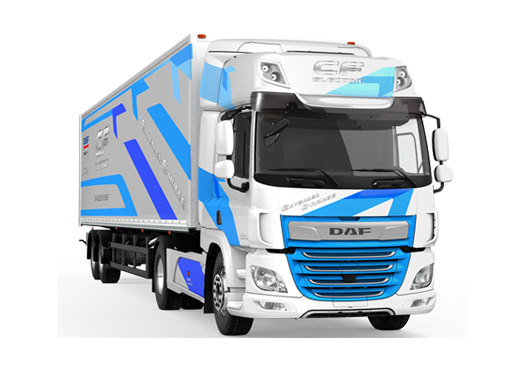 FT (4x2) tractor
Chassis
Tractor unit 4x2
GCW
37 tonnes
Wheelbase
380 centimetres
Weight tractor
9,000 kg
Electric motor
VDL 210 kW nominal / 240 kW (peak)
Torque
2000 Nm
Battery capacity
350 kWh (315 kWh effective)
Range fully charged
Up to 220 km / 137 miles*
Quick charge batteries
75 minutes (at 250kW)
* Depending on the application, driving circumstances and load.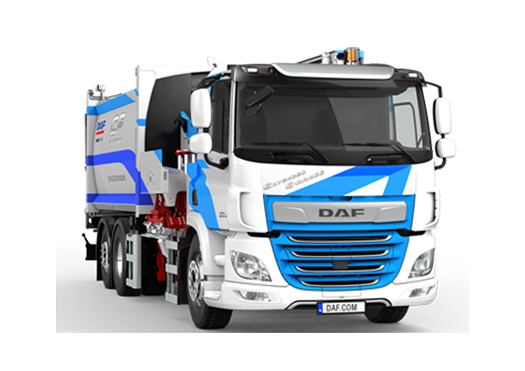 FAN (6x2) rigid
| | |
| --- | --- |
| Chassis | Rigid truck 6x2 |
| GVW | 29 tonnes (maximum) |
| Wheelbase | 380/400/420/460/480 centimetres |
| Weight chassis cab | 10,160 kg |
| Electric motor | VDL 210 kW nominal / 240 kW (peak) |
| Torque | 2000 Nm |
| Battery capacity | 350 kWh (315 kWh effective) |
| Range fully charged | 250 km / 155 miles* |
| Quick charge batteries | 75 minutes (at 250kW) |
Partner in business
There is more to achieving zero-emission transport than purchasing an electric truck. To achieve a successful zero-emission transport solution, DAF has developed advanced route-analysis and simulation tools. Experienced DAF sales consultants use these tools to map a zero-emission transport task based on various DAF E-truck configurations and charging equipment specifications. They explore alternative technical solutions, provide clear insight into the implications of these solutions, and determine the optimal solution for a zero-emission transport assignment. Throughout all these steps we closely collaborate with our customers.
Electric truck service
An electric truck requires different servicing than traditional trucks. The DAF dealer has the most up-to-date knowledge along with specialists who are fully trained and certified to keep your trucks on the road.
Latest battery technology
You don't see it. Nevertheless, the DAF CF Electric is equipped with one of the biggest innovations in the electric truck technology in recent years: the LFP battery. LFP stands for Lithium, Ferro (iron) and Phosphate, referring to the three main components of this power source.
DAF Trucks is the first major OEM to use this type of power unit in its trucks, after lengthy tests and extensive research, of course. LFP batteries have three enormous advantages over the existing cobalt and magnesium containing batteries: they are completely 'Cobalt Free', 'Cell to Pack' and extremely safe.
Cobalt Free
Cobalt is frequently considered an essential raw material for batteries. However, not only is the stock of cobalt finite, its mining industry is not regarded as sustainable. A good reason for DAF to look for an alternative that eliminates both disadvantages. And the LFP meets that requirement, making the CF Electric an even more green truck.
Cell to Pack
Furthermore, the battery is 'Cell to Pack'. This means that individual battery cells can be stacked and that no intermediate buffering modules are required. This increases the energy density per liter enormously. And that is reflected in the range of the new CF Electric. Although the size of the battery pack remained almost the same, the range of the third generation CF Electric doubled compared to its predecessor; from over 100 to over 200 kilometers on one charge.
Highest safety
A final important advantage over other regular battery chemistries is the thermal and chemical stability of a LFP power source. The lithium, iron and phosphate composition not only improves battery resistance for overheating, it also eliminates the so-called thermal runaway – a chain reaction within a battery pack. As a result, by mounting LFP batteries the possibility of a spontaneous ignition is reduced to zero, further enhancing the CF Electric safety standards.
'An important step forward'
"With its increased range, the new CF Electric strengthens our position at the forefront of electric road transport. This truck has been developed in response to the rising demand for better air quality in our cities and lower CO2 emissions. 500 fully electric kilometres per day is something transporter operators can really work with."

Ron Borsboom,
Executive Director DAF Product Development.