We use cookies for a variety of purposes, such as website functionality and helping target our marketing activities. Some cookies are essential, others help us improve your experience by providing insights into how the site is used. For more information, please visit our Cookie Notice.

John Jorritsma
Mayor of Eindhoven
"DAF is one of Eindhoven's founding fathers"
TheProudDAF link doesn't have a separate section for mayors to tell their story, but as far as I'm concerned, mine would do pretty good as part of the stories that drivers tell. Apart from managing a city, I happen to be pretty decent in managing a DAF as well. Jos Smetsers, member of DAFs Board of Management, found that if I had never sat behind the steering wheel of a DAF-truck, then I wouldn't be able to 'steer the city' all too well either. A challenge I gladly took on. For the inhabitants of the city, it's good to know this all took place behind the barriers of DAFs test track in Sint-Oedenrode.

I got served pretty much anything; from the smallest DAF to the very largest: the XF. What struck me immediately; you're seated immensely high, on comfy suspension seats. And with all those buttons, the cab sure does remind of a cockpit. So there I was, turning the ignition key in my very 'own' DAF. Driving a smooth automatic, way easier than the manual transmission in my own car. What's really confronting is the immense mass that's behind you. Gosh. Like the strict teacher he turned out to be, Jos let me take a reverse turn. A unique experience, a childhood dream.

This year, Eindhoven celebrates the merge of five nearby villages, the current boroughs Strijp, Woensel, Tongelre, Stratum and Gestel. That was in the twenties, Eindhoven was booming. In those same twenties, Hub van Doorne started his small business which developed into one of the most important employers in Eindhoven. When we celebrate 'Groot-Eindhoven 100 jaar' (the one hundredth celebration of the merge of the current boroughs), we actually also celebrate hundred years of Eindhoven's economy. The growing pains of DAF and Philips make this city to what it is now: an economic force of global proportions.

These pillars the city rests upon are incredibly important for me as mayor. And besides that, it's also really nice that it's such a beautiful, innovative and – yes I said it – clean product. Which you can take out for a lovely spin, even if it's just on the test track. Please get me a DAF after my retirement!

John Jorritsma
Mayor of Eindhoven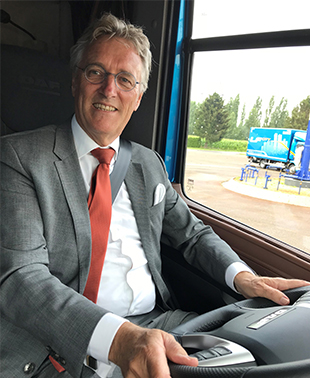 Also interesting to read: