Predictive Cruise Control
Comfort and Safety Systems
Predictive Cruise Control (PCC) uses advanced GPS-technology to determine the exact position of the vehicle and to know which driving conditions have to be taken account of over the next 1 to 2 kilometres.



Within the specified range, Predictive Cruise Control determines the ideal speed and Predictive Shifting selects the ideal gear.

The starting point for both technologies is to drive as long as possible in the highest gear possible and consequently in the optimal rpm range. As the vehicle nears the end of a hill climb, the system strives to stay in a higher gear. If a hill climb is immediately followed by a descent, less fuel is injected before the top of the climb, making use of the vehicle mass to 'push' the vehicle over the top.

In some cases, Predictive Cruise Control will permit the speed of the vehicle to fall below the set value; for example when the top of a hill has almost been reached and the system 'knows' that the potential energy will quickly bring the vehicle back up to the desired level on the descent. Predictive Cruise Control can even temporarily permit a speed that is slightly higher than that set - within predefined tolerances, of course - also with a view to lowering fuel consumption as much as possible.

Thanks to Predictive Cruise Control and Predictive Shifting, fuel consumption and CO2 emissions can be reduced by as much as 3%, specifically over hilly routes.
How intervention by Predictive Cruise Control saves fuel
Anticipating the road that lies ahead, Predictive Cruise
Control may intervene in the following ways:
Cruise Control and Downhill Speed Control settings
Temporarily allow higher or lower vehicle speeds to reduce the amount of fuel used over the total distance.
Reduce the vehicle speed just before the top of a hill

Allow a vehicle speed above the cruise setting before a

new climb begins

Allow a vehicle speed above the downhill speed setting

at the end of a steep descent
AS Tronic shift strategy (Predictive shift)
Fuel savings from lower engine speeds.
Shift up when acceleration in the next gear will be

sufficient to reach the hill top

Inhibit upshift in short descents (anticipating

downshift at the next climb)

Inhibit unnecessary downshift just before the top

(anticipating upshift in the descent)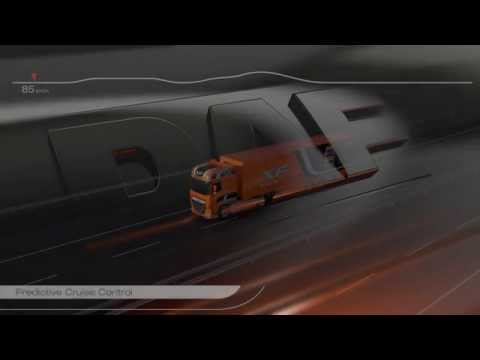 The Advanced Emergency Breaking System (AEBS) further reduces the risk of a rear-end collision by applying up to the maximum available brake power if appropriate.

PCC includes a Forward Collision Warning (FCW) function to alert the driver if manual intervention is required. Radar continuously measures if there is enough room to prevent a collision with the vehicle in front.

The GPS and road map information allows better tuning of EcoRoll to the gradients and height differences of the road ahead and results in an enhanced EcoRoll function, and hence higher fuel savings.